VISITS AND TASTINGS
ENGLISH > HOSPITALITY
Visits and Tastings

(minimum 10 pax, maximum 20)
Here in Albana we want tastings of our wines 5 Terre DOC, Mediterranean red and extra virgin olive oil to be an unforgettable experience.
For this reason we will host you in a
n environment rich in tradition
furnished with antique furniture.
In this place we will accommodate you and tell you our story, how our wines are produced exclusively with our own grapes, how our
extra virgin olive oil is produced with the centuries-old olives surrounding the house and obtained from a refined cold squeezing to ensure the highest quality.
We will show you our vineyards where we grow the grapes for the production of 5 Terre DOC wine (Bosco, Albarola, Vermentino), and Mediterranea Red (Marselan).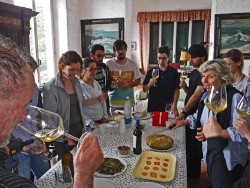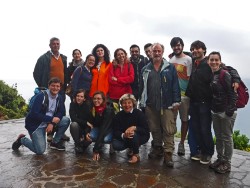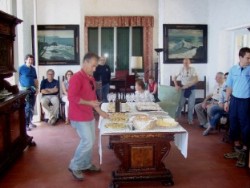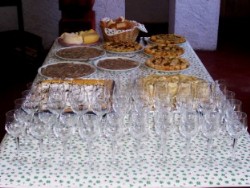 Standard visit pogramme
Guests arrive at the gate of the property facing the municipal road to Campiglia (La Spezia), marked by street number 3 of Via Castellana. The coordinates for the navigator can be provided.
Passing the gate follow the path on the private road inside the property for about 1,500 meters, reach the vineyards and the cellar for the visit that precedes the tasting.
Total visit time, and tasting two / three hours. The KM 1,500 route within the property, with an additional cost per person, can be run by an off-road vehicle.
During the tasting, in sequence, will be presented 5 Terre Doc wines of two different vintages, Mediterranean red wine, extra virgin olive oil. The tasting is accompanied by traditional focaccia.
For bookings and information please refer to the contact page.